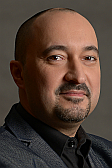 Miłosz Bembinow was born in 1978 in Warsaw. He studied Composition in the class of Prof. S. Moryto and Symphonic-Opera Conducting in the class of Prof. A. Wit in the F. Chopin Academy of Music in Warsaw, where he now works as an Assistant Professor (The Fryderyk Chopin University of Music). In 2012 Bembinow obtained his Ph.D. in composition. He received many awards and scholarships – among others the Polish Minister of Culture's Scholarship "Young Poland". In years 2007-2008 Miłosz Bembinow has been working as a Guest Professor in composition major at Keimyung University in Daegu in South Korea.
Bembinow's artistic output covers not only solo, chamber, choir, orchestral and oratorical pieces but also popular and film music. His music has been performed in the majority of European countries, South and North Americas as well as in Asia. It was also presented by various radio and TV broadcasting stations as well as issued on over 30 CD's. Couple of these CD's received the "Fryderyk" award, granted by the Polish Phonographic Academy.
As a conductor Miłosz Bembinow has cooperated with various symphony orchestras. He conducted many first performances and recordings of pieces written by Polish young composers. Since 2000 he has been the artistic supervisor of "Forum Ensemble" Chamber Orchestra co-founded by him. During the 2004-2006 seasons he has worked in the Musical Theatre "Capitol" in Wrocław as the music director and conductor of F. Lehar's operetta The Land of Smile and as a conductor of L. Bernstein's West Side Story.
The personage of Miłosz Bembinow is strictly connected with organizational work upon various cultural and musical events. He is one of the main initiators of the "Students Musical Forum" festival and the National Competition for Young Composers. In years 2003-2007 he served as a chairman in the Polish Section of "Jeunesses Musicales International" and in years 2002-2011 as a chairman in the Artistic Initiatives' Foundation "Harmony Sphere". In years 2008-2009 he was a vice director of an international project Keimyung-Chopin Academy of Music in Daegu in South Korea. Recently, among others, Bembinow is related to the Polish Composers' Union and the Society of Authors ZAiKS.